Welcome to our blog, dedicated to all lovebirds seeking an unforgettable experience in the vibrant city of Dubai. From enchanting landscapes to world-class attractions, Dubai offers an enticing array of activities designed to create cherished memories for couples. Whether you're planning a romantic escape, honeymoon, or simply a special getaway, Dubai has something for everyone. Join us as we explore the top "things to do in Dubai for couples" and discover the perfect blend of luxury, adventure, and romance that awaits you in this dazzling city. Let your love story unfold against the backdrop of Dubai's mesmerizing skyline and indulge in unforgettable moments together.
Capture your love in vibrant hues at the Miracle Garden with picturesque snapshots
Nestled in the heart of Dubai, the Miracle Garden stands as a breathtaking oasis of floral enchantment, making it an idyllic destination for couples to explore hand in hand. Spread across a vast expanse, this botanical masterpiece boasts a kaleidoscope of vibrant colors and captivating floral designs that create a truly magical atmosphere. Strolling through the garden's intricate pathways, couples will find themselves surrounded by a symphony of fragrances, a visual feast of blooming flowers, and whimsical displays that inspire romance at every turn. The Miracle Garden provides a serene and romantic setting, perfect for couples to escape the bustling city and immerse themselves in the beauty of nature while creating timeless memories together.
Embark on a breathtaking adventure as you and your beloved soar above the desert in a majestic hot air balloon
Embarking on a hot air balloon ride over the desert is an extraordinary experience that ignites a sense of wonder and romance for couples in Dubai. As you and your loved one ascend into the sky, a thrilling sense of anticipation builds. Gently floating above the golden dunes, you'll be greeted by a mesmerizing panorama of the expansive desert landscape, bathed in the soft hues of dawn or dusk. The tranquility of the moment creates an intimate atmosphere, allowing you to cherish each other's company in the peaceful serenity of the skies. This magical journey provides an unparalleled opportunity to create unforgettable memories and strengthen the bond between you and your partner, as you both revel in the awe-inspiring beauty that unfolds beneath you.
Immerse yourselves in a captivating world of art and technology as you indulge in the mesmerizing Theatre of Digital Art
The Theatre of Digital Art in Dubai offers couples a unique and captivating experience that blends art, technology, and emotion. Step into a realm where masterpieces come to life through mesmerizing digital projections, dynamic visuals, and enchanting soundscapes. This immersive environment provides an ideal setting for couples to explore the depths of creativity and ignite meaningful conversations. As you wander hand in hand through the gallery, you'll be transported into a world of artistic expression, where boundaries between reality and imagination blur. The Theatre of Digital Art promises a truly immersive and memorable journey, allowing couples to deepen their connection and create lasting memories in a setting that celebrates the beauty of human creativity.
Ascend to the pinnacle of romance as you and your partner make your way to the majestic summit of the Dubai Frame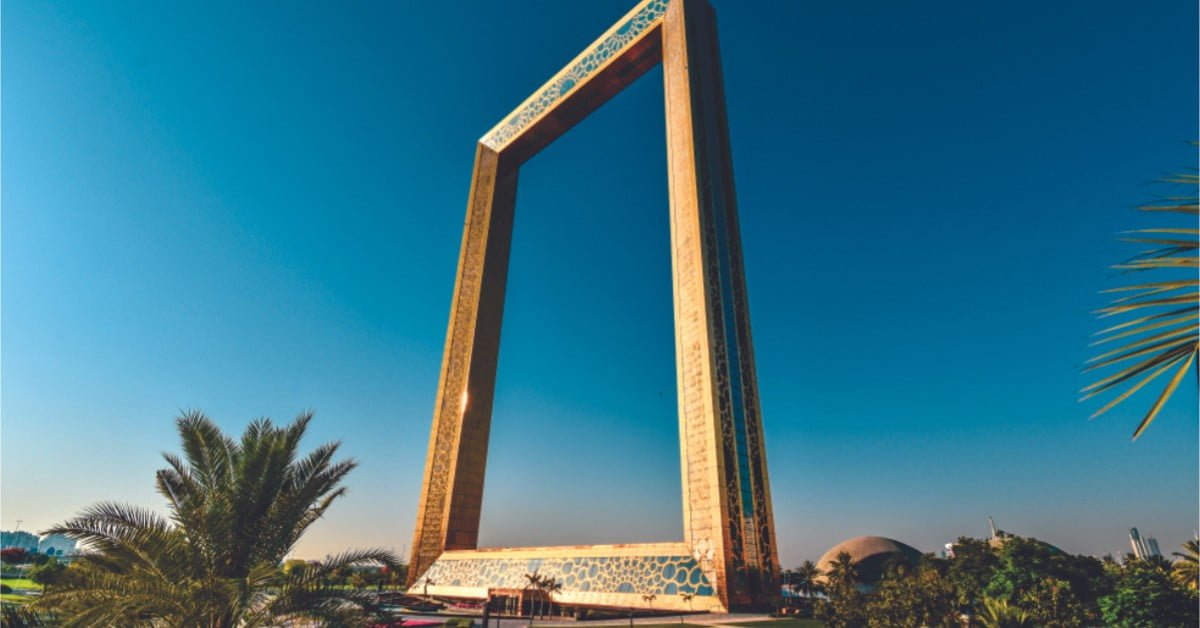 With its captivating blend of old-world charm and modern grandeur, the Dubai Frame has rightfully earned its reputation as one of Dubai's top tourist attractions. Rising proudly in Zabeel Park, this architectural masterpiece stands an impressive 150 meters tall, commanding panoramic vistas that showcase the striking contrast between old and new Dubai.
Upon reaching the pinnacle, whether by elevator or opting for a more adventurous climb up the stairs, couples are treated to an awe-inspiring experience. Walking along the nearly 100-meter-long glass sky bridge that connects the two towers, you'll find yourself immersed in a world of breathtaking views that will leave you both in awe.
Once you've captured countless memories and photographs, venture down to the mezzanine levels where a captivating interactive museum awaits. Through multimedia exhibits and engaging displays, the museum takes you on a captivating journey through Dubai's rich history, offering insight into its remarkable transformation.
As the largest frame in the world, the Dubai Frame offers couples an essential glimpse into both the traditional and modern sides of this vibrant city. While admission to the Frame itself is approximately $15, many savvy couples choose to enhance their visit by combining it with other nearby attractions. A visit to the Museum of the Future, a mere five-minute drive away, and a leisurely stroll to the Dubai Garden Glow, just a 20-minute walk from the Frame, create a comprehensive and unforgettable Dubai experience for couples seeking to embrace the city's past, present, and future.
Discover the thrill of gliding on ice as you and your partner test your balance on the enchanting Dubai Ice Rink
Indulge in a classic yet undeniably romantic activity as you and your partner spend a delightful afternoon gliding hand-in-hand on the ice rink, a timeless favorite for couples in Dubai. Whether you're seasoned skaters or beginners taking your first graceful steps, this experience promises to create cherished memories.
While Dubai offers various ways to immerse yourself in a winter wonderland, the ice rink at the Dubai Mall steals the spotlight. This Olympic-sized rink not only provides ample space but also offers lessons for those seeking guidance. To add to the excitement, there are dedicated DJ hours where you can skate to the latest tunes and even opportunities for ice hockey practice if you're up for a friendly competition.
After an exhilarating skate session, cozy up with steaming cups of hot chocolate or coffee at one of the charming cafes that line the rink. Alternatively, step outside and bask in the warm embrace of the Middle Eastern sun as you admire the iconic Burj Khalifa, the tallest building in the world. For a complete festive experience, indulge in a lavish feast at one of the nearby restaurants.
The ice rink is located within the bustling Dubai Mall and offers the perfect opportunity to combine your skating adventure with some retail therapy. With over 1,200 retail outlets and a wide selection of international dining experiences, you can explore the mall's vast offerings and shop to your heart's content after lacing up your skates.
Experience a helicopter tour for an unforgettable adventure!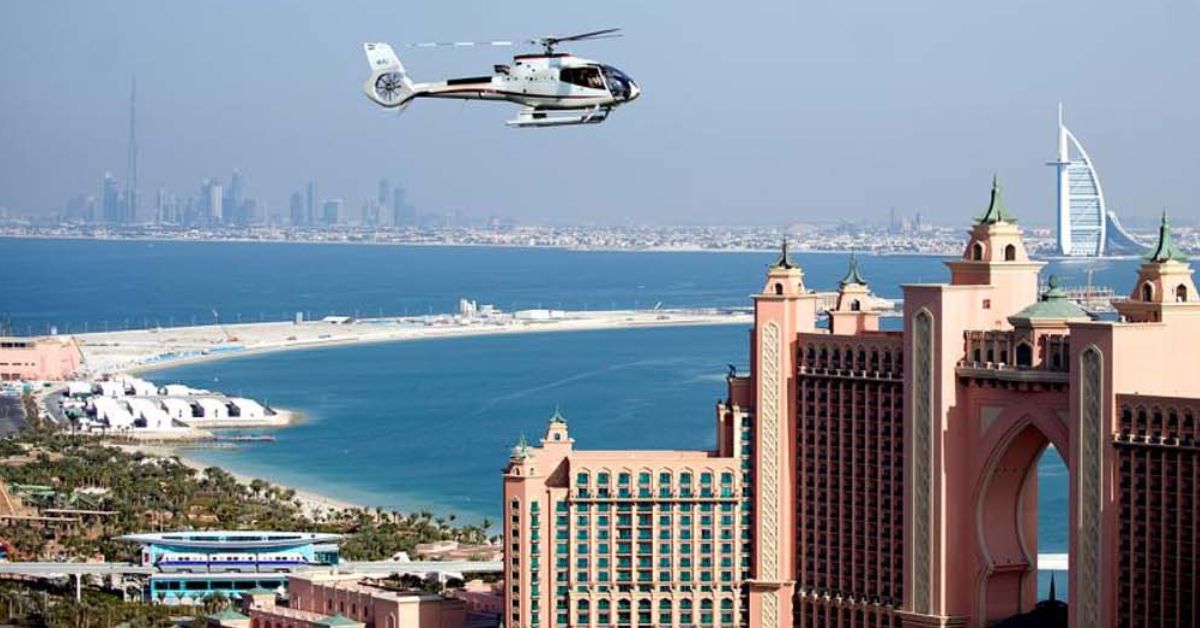 Discover the true magnificence of Dubai from a bird's eye perspective with an exhilarating helicopter tour. While the city may seem like a typical concrete jungle at street level, soaring above in a helicopter unveils its unique and awe-inspiring beauty.
Couples have the option to choose from various tour packages, ranging from 12 minutes to an hour, all promising breathtaking views of Dubai's iconic landmarks. From the majestic Burj Khalifa to the picturesque Palm Jumeirah, World Islands, Dubai Creek, and the stunning Jumeirah Beach shoreline, the tour showcases the city's remarkable skyline.
For those seeking an extra touch of luxury, private charters are available, offering in-flight champagne and chocolates to enhance the experience. While prices for helicopter tours start at approximately $170 USD per person, it's an investment worth making for a truly unforgettable, once-in-a-lifetime adventure.
To ensure availability and potentially save on costs, it is recommended to book your Dubai helicopter tour online and in advance. This allows you to secure your spot and potentially access discounted rates, ensuring you don't miss out on this incredible opportunity.
Enjoy a day of fun and excitement at Wild Wadi Water Park!
For adventurous couples seeking a thrilling and unconventional romantic experience, Dubai's world-class water parks offer the perfect opportunity to create unforgettable memories together.
One of the top choices for couples is the renowned Wild Wadi Water Park, conveniently located near the iconic Burj Al Arab and Jumeirah Beach Hotel.
Themed around the beloved Arabian character Juha, Wild Wadi boasts over 30 exhilarating rides and slides, including the world's largest water slide outside of North America. From heart-pounding adventures like Tantrum Alley and Burj Surj to relaxing activities such as the Lazy River, there's something for everyone to enjoy.
After a day of excitement under the sun, indulge in delicious food and refreshing drinks at the numerous beachfront bars and restaurants within walking distance, with the Summersalt Beach Club being a popular choice.
Hot tip: Some Jumeirah hotels offer free admission to the water park, so consider staying at Jumeirah Beach Hotel, Burj Al Arab Jumeirah, Jumeirah Al Qasr, Madinat Jumeirah, or Jumeirah Al Naseem to enjoy the waterslides and make the most of your visit.
Embark on an amazing desert safari adventure!
Experience the tranquility of the desert with an unforgettable safari getaway. Leave the city behind and hop on a dune buggy to embark on a thrilling ride through the golden sands, culminating in a mesmerizing sunset.
Arriving at a charming Bedouin-style camp, indulge in a delectable barbecue dinner, embrace traditional henna painting, marvel at enchanting belly dancing performances, and savor the flavors of shisha. As the night unfolds, gather around a captivating bonfire before bidding farewell to the desert.
With a range of itineraries to choose from, including camel rides, 4×4 adventures, and stargazing trips, there's a desert safari to suit every couple's preferences.
Most tour operators provide convenient hotel pickups, so be sure to inquire when making your reservation. Prepare to create priceless memories and capture envy-inducing Instagram photos during this extraordinary desert escapade.
Enjoy a leisurely beach stroll in the city's finest coastal spots
The UAE boasts a stunning coastline along the Gulf of Oman and the Persian Gulf, offering an abundance of beautiful beaches. Whether you seek relaxation, watersports, or a simple stroll, there's a perfect beach for you, all at no cost.
Popular choices include Jumeirah Open Beach for swimming, Kite Beach for adrenaline seekers, La Mer for people-watching, and Black Palace Beach for secluded romance. JBR Open Beach, with its soft, powdery sand, stands as Dubai's largest beach, while Umm Suqeim Beach offers Instagram-worthy views of the iconic Burj Al Arab.
Al Mamzar Beach Park is ideal for families, featuring affordable entry fees, and Mercato Beach exudes an Italian-Southern California atmosphere near the vibrant Mercato Mall.
Remember to pack sunscreen as temperatures in Dubai can be hot year-round. So, choose your spot, lay down your beach towel, and embrace the coastal beauty of the UAE.
Indulge in a romantic dinner at the world's tallest restaurant
Experience the height of romance at At.Mosphere, the world's tallest restaurant on the 122nd floor of Dubai's iconic skyscraper. Enjoy a special dinner date surrounded by breathtaking views of the vibrant city below, making it one of the most romantic activities in Dubai.
Delight in a wide selection of delectable dishes from various cuisines, creating an unforgettable dining experience. With its incredible location and stunning vistas, At.Mosphere is truly one of the top nighttime attractions in Dubai.
Location: 122nd Floor, Burj Khalifa
Timings: 7 AM to 2 AM
Don't miss out on exploring the desert resorts in and near Dubai or checking out the best restaurants in Burj Khalifa for more memorable experiences.
Board a Dhow cruise for an unforgettable experience
Immerse yourself in Dubai's maritime heritage by embarking on a dhow cruise. These traditional wooden boats, once used by traders and fishermen, now offer a captivating tourist experience.
Choose between a daytime or nighttime cruise, with both options providing stunning views of the city skyline, delectable international cuisine, and live entertainment. Various cruises are available, each showcasing different areas: the Dubai Creek cruise explores the charming old-town district, while the Dubai Marina and Jumeirah Beach cruises highlight the city's upscale neighborhoods.
For unparalleled sights, opt for the Burj Khalifa Lake or Dubai Water Canal cruises, offering mesmerizing views of the iconic Burj Khalifa and the captivating Dubai Fountain show.
Experience Dubai's maritime charm and create unforgettable memories aboard a dhow cruise.
Enjoy drinks with your partner at Chillout Bar
Experience the Middle East's first ice lounge, Chillout Bar, where sub-zero temperatures and stunning interior design create a unique fusion. Guests are advised to spend a few minutes in the buffer zone to acclimatize before entering the lounge, maintained at 5 degrees. This one-of-a-kind setup makes Chillout Bar one of the top bars in Dubai.
Location: Times Square Center, Ground Floor, Sheikh Zayed Rd, Dubai, United Arab Emirates
Timings: 10:00 am to 10:00 pm (every day)
For the best guide to Dubai weather, be sure to check out our recommendations.
Experience camel riding for an unforgettable adventure
Experience the age-old favorite of camel riding, a must-do activity in Dubai. Explore the desert atop these gentle giants, adding a touch of romance or seeking a new adventure. Choose from private or group rides, including sunset and overnight safaris with exciting add-ons like dune buggies, sandboarding, falconry, BBQ dinners, dance shows, and stargazing. Remember to wear sunscreen and stay hydrated in the heat. If you prefer a shorter outing, consider horse-riding lessons with stunning beachfront views offered by various stables in Dubai. Saddle up and embrace the equestrian experience
Immerse yourself in a magical world at Dubai Butterfly Garden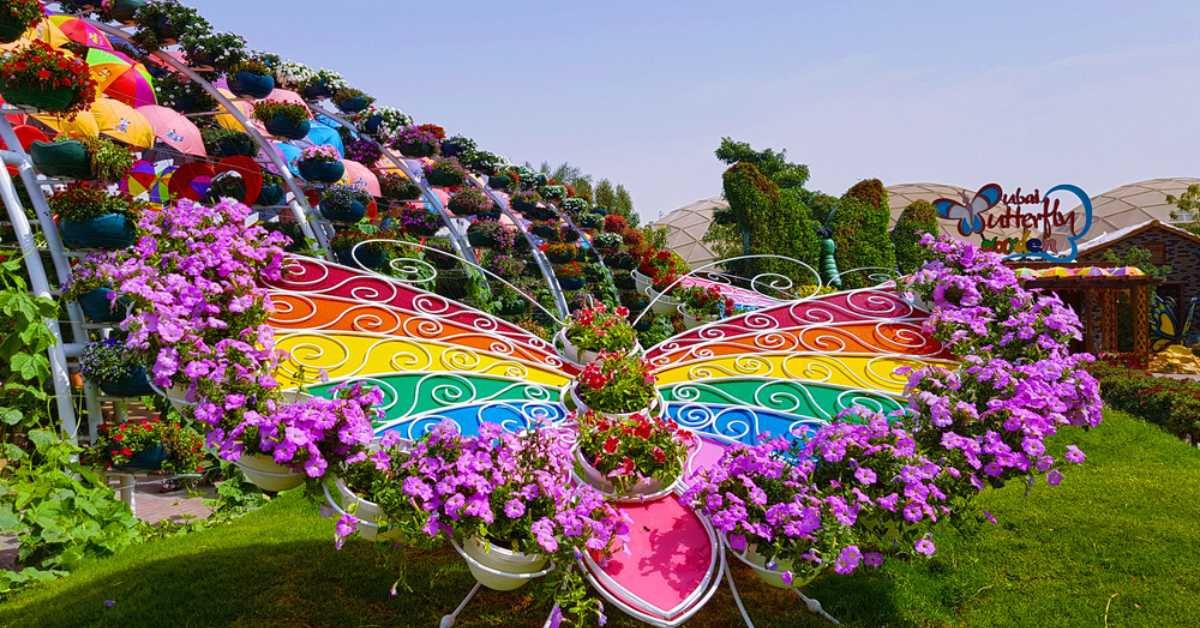 Right around the corner from the Miracle Garden's main entrance is the Dubai Butterfly Garden, another must-visit attraction for couples. This enchanting garden houses over 15,000 live butterflies, representing 50 species, in a controlled, temperature-regulated environment. Make sure to have your camera ready as you immerse yourself in the captivating beauty of these delicate creatures.
The Dubai Butterfly Garden offers a delightful experience as you wander through its ten custom-made, climate-controlled domes. Explore the lush gardens and let yourself be mesmerized by the vibrant colors and gentle fluttering of the butterflies around you. To enhance your visit, take some time to visit the butterfly museum located within the garden, where you can learn more about the fascinating metamorphosis process.
If you find yourself in need of refreshments, the garden has you covered. On-site, you'll discover a cozy coffee shop, a delightful candy store, and a convenient food kiosk. This means you and your loved one can easily spend an entire afternoon here, indulging in exploration and capturing unforgettable moments through your lens.
Experience the Burj Khalifa and tick it off your bucket list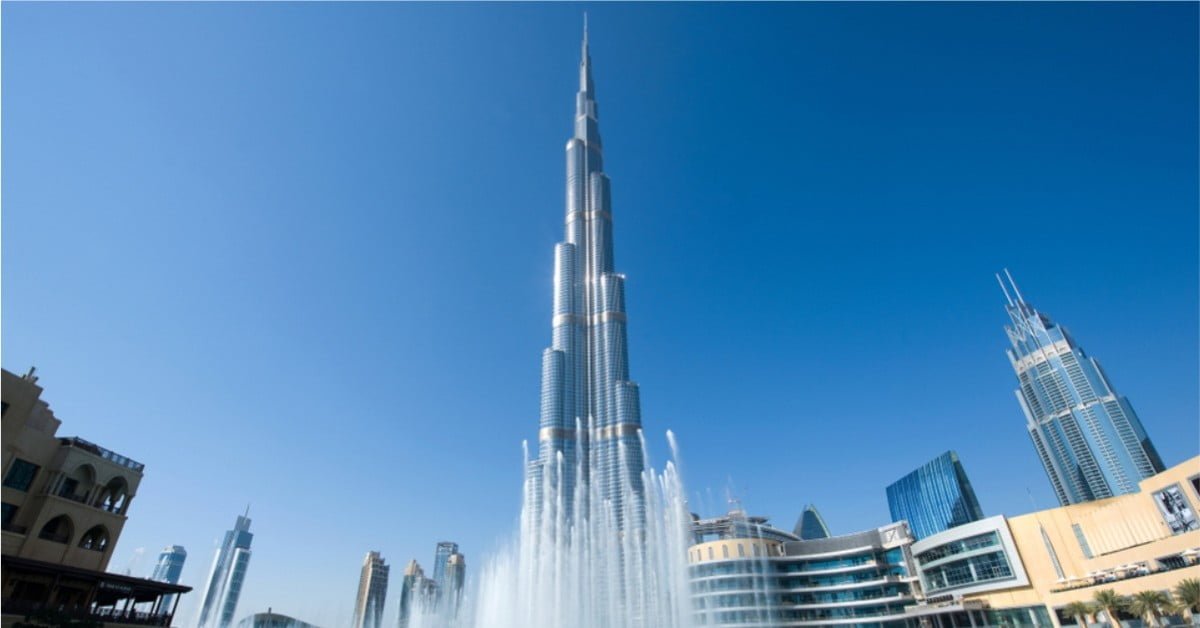 The Burj Khalifa, an iconic symbol of the city, is a must-visit for first-time Dubai visitors. To impress your significant other, consider booking a room at one of the luxurious Armani Hotels inside. This grants you premium access to the observation decks and an overnight stay in one of the most opulent hotels in town.
Rising over 830 meters tall, the Burj Khalifa is the world's tallest building and offers breathtaking views of the cityscape. You can enjoy the common viewing decks on levels 124 and 125 or opt for the more exclusive level 148.
While a standard viewing deck ticket is fantastic, there are additional options to add a touch of romance to your sky-high experience. On level 122, you'll find At.mosphere, the world's highest restaurant, offering fine dining suspended almost half a kilometer in the air. It's perfect for celebrating special occasions or treating your partner.
For a more relaxed yet equally impressive experience, head to level 148 and savor a sunset drink at The Lounge, spanning the 152nd to 154th floors. Witness the city illuminating below you. If you prefer an early start, delight in Breakfast in the Clouds on level 152.
No matter how you choose to enjoy it, make sure to include the Burj Khalifa in your Dubai itinerary for an unforgettable experience.