With its modern skyline, luxurious amenities, and rich cultural offerings, Dubai is a world-class destination that offers fun-filled experiences for everyone. From adrenaline-pumping adventure activities to indulgent shopping and dining options, there is something for everyone in this bustling metropolis. Here are ten fun things to do in Dubai that you won't want to miss out on:
Experience the Thrill of Adventure Activities
Are you an adrenaline junkie looking for your next fix? Look no further than Dubai, where adventure activities abound. From indoor skydiving to dune bashing to ziplining, there's something for everyone.
Indoor Skydiving at iFly Dubai
If you've ever wanted to experience the thrill of skydiving without jumping out of a plane, then iFly Dubai is the place for you. This state-of-the-art facility offers visitors an opportunity to experience indoor skydiving in a safe and controlled environment. You'll experience the sensation of freefalling in a wind tunnel, making for an unforgettable experience.
But iFly Dubai is more than just a thrill ride. It's also a great way to improve your skills if you're an experienced skydiver. The facility offers coaching from world-class instructors, as well as the opportunity to practice your maneuvers in a safe and controlled environment.
Dune Bashing in the Desert
For those who crave adventure on four wheels, dune bashing in the Dubai desert is an experience not to be missed. Hop into a 4×4 vehicle and hold on tight as your driver takes you on an exhilarating ride through the sand dunes. With heart-stopping drops, thrilling climbs, and amazing views, this activity is sure to get your adrenaline pumping.
But dune bashing isn't just about the thrills. It's also a great way to learn about the local environment and culture. Your driver will be able to point out interesting sights and landmarks along the way, and you'll have the opportunity to stop and take photos of the stunning desert landscape.
Ziplining at XLine Dubai Marina
If you're looking for an adrenaline rush with a view, then the XLine Dubai Marina is the perfect activity. This zipline takes you on a thrilling ride across the Dubai Marina, with breathtaking views of the city skyline and the sea below. With two parallel lines, you can even race your friends to the finish line, making for an exciting and memorable experience.
But the XLine Dubai Marina is more than just a fun activity. It's also a great way to conquer your fear of heights and build your confidence. The experienced staff will guide you through the process and make sure you feel safe and secure throughout the entire experience.
So what are you waiting for? Book your adventure activities in Dubai today and experience the thrill of a lifetime!
Discover the Rich Culture and History
Are you looking to explore the cultural and historical side of Dubai? Look no further than the Al Fahidi Historical Neighborhood, one of the oldest neighborhoods in the city. This neighborhood is a must-visit for those interested in history and architecture.
Visit the Al Fahidi Historical Neighborhood
Take a stroll through the narrow alleyways and admire the traditional wind towers, which were used for natural air conditioning in the days before air conditioning units. The neighborhood is also home to several museums, art galleries, and cultural centers, showcasing the rich heritage of Dubai.
One of the highlights of the Al Fahidi Historical Neighborhood is the Dubai Museum, housed in the Al Fahidi Fort. The museum offers a fascinating look at the city's history and culture, from ancient Bedouin life to the modern development of Dubai. Visitors can explore interactive exhibits and multimedia displays, making for an engaging and educational experience.
The Dubai Museum is a must-visit for those interested in learning more about the history and culture of Dubai. Located in the historic Al Fahidi Fort, the museum offers a glimpse into the city's past and present. Visitors can explore exhibits on traditional Emirati life, pearl diving, and the development of Dubai's economy and infrastructure.
The museum also features a range of interactive exhibits, including a recreated souk and a traditional Emirati house. Visitors can also learn about the importance of Islam in Emirati society, and view a collection of ancient manuscripts and artifacts.
Marvel at the Jumeirah Mosque
The Jumeirah Mosque is one of the most beautiful and iconic landmarks in Dubai, and a must-visit for those interested in architecture and religion. This stunning mosque is built in the traditional Islamic style, with soaring minarets and intricate geometric patterns.
Guided tours are available for visitors of all faiths, making this an accessible and eye-opening experience. Visitors can learn about the history and significance of the mosque, as well as the customs and traditions of Islam.
Whether you're interested in history, culture, or religion, Dubai offers a wealth of opportunities to explore and learn. So why not plan a visit to the Al Fahidi Historical Neighborhood, the Dubai Museum, and the Jumeirah Mosque, and discover the rich heritage of this fascinating city?
Enjoy World-Class Shopping and Dining
Dubai is known for its luxurious shopping and dining experiences, and there are plenty of options to choose from. Whether you're a seasoned traveler or a first-time visitor, you're sure to find something that suits your taste and budget. Here are just a few of the top destinations for shopping and dining in Dubai:
Shop at the Global Village
If you're looking for a unique shopping experience, the Global Village is a must-visit destination. This massive outdoor market features pavilions from over 90 countries around the world, offering a diverse range of products and handicrafts. You can browse traditional clothing, jewelry, and accessories, or check out the latest in fashion and technology. The Global Village also hosts live entertainment and food stalls, making it a fun and festive destination for the whole family.
One of the highlights of the Global Village is the cultural shows and performances. You can witness traditional dances and music from around the world, and learn more about different cultures and traditions. There are also plenty of fun rides and attractions for kids, making it a great day out for the whole family.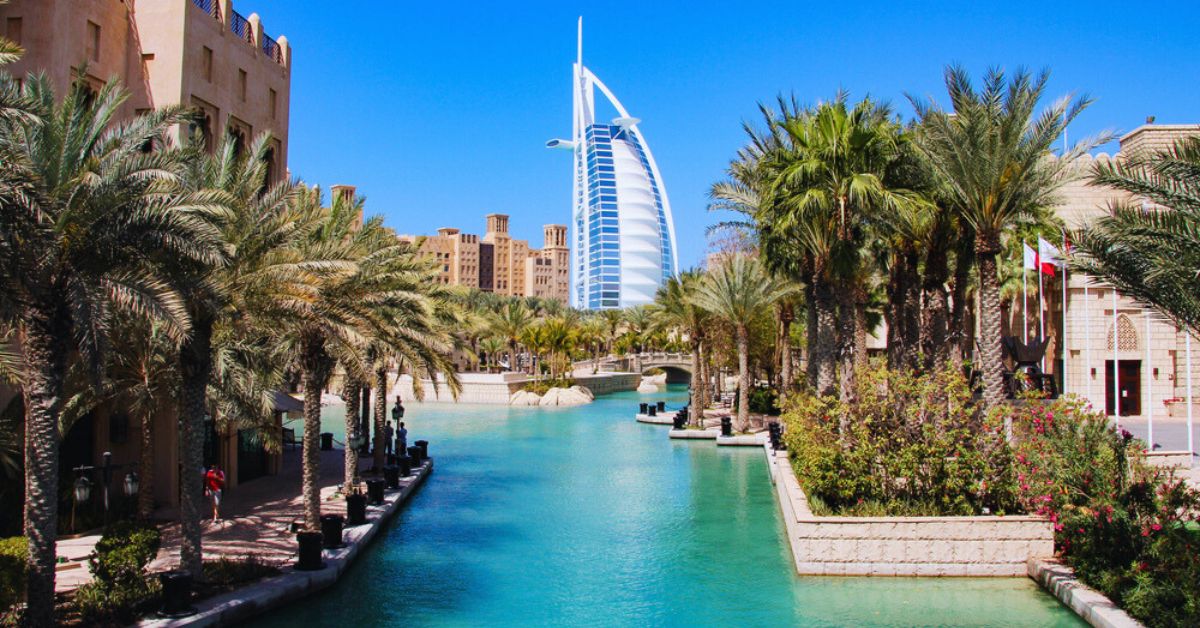 The Burj Al Arab is one of the most iconic buildings in Dubai, and its restaurants offer some of the finest dining experiences in the city. With stunning views of the sea and the city skyline, the restaurants at the Burj Al Arab offer a combination of gourmet cuisine and a luxurious ambiance. Whether you're in the mood for fine dining or a casual meal, this landmark building has something to offer.
One of the most popular restaurants at the Burj Al Arab is Al Muntaha, which offers stunning views of the city and the Arabian Gulf. The restaurant serves contemporary European cuisine, with a focus on fresh seafood and local ingredients. Another popular option is the Al Mahara restaurant, which features a giant aquarium as its centerpiece and offers a range of international dishes.
Stroll through the Gold and Spice Souks
The Gold and Spice Souks are two of the most vibrant and colorful markets in Dubai, offering a feast for the senses. Walk through the narrow alleyways and browse the glittering displays of gold and precious stones, or sample the heady aromas of exotic spices and herbs. These markets offer a glimpse into the city's vibrant trading culture and are a must-visit for any traveler.
The Gold Souk is home to over 300 retailers, offering a wide range of gold jewelry and other precious metals. You can find everything from intricate necklaces and bracelets to simple rings and earrings. The Spice Souk, on the other hand, is a haven for foodies and cooking enthusiasts. You can find a wide range of spices, herbs, and dried fruits, as well as traditional Arabic sweets and snacks.
While you're strolling through the souks, be sure to haggle with the vendors to get the best deals. This is a common practice in Dubai, and you can often get prices significantly lower than the original asking price.
Overall, Dubai offers a unique and exciting shopping and dining experience that you won't find anywhere else in the world. Whether you're looking for luxury brands or traditional handicrafts, a gourmet meal, or a casual snack, Dubai has something to offer for everyone.
Relax and Unwind at Stunning Beaches
If you're looking for a place to unwind and soak up the sun, Dubai is the perfect destination. With its warm climate and stunning beaches, this city offers a variety of options for beach lovers.
Sunbathe at Jumeirah Beach
Jumeirah Beach is one of the most popular beaches in Dubai and for good reason. With its white sand, crystal-clear water, and views of the iconic Burj Al Arab, this beach offers a picture-perfect backdrop for a day of sunbathing and relaxation. There are also plenty of activities available, including beach volleyball, water sports, and beachside cafes.
After a day of soaking up the sun, head to one of the many restaurants or cafes along the beachfront for a refreshing drink or a bite to eat. From fresh seafood to international cuisine, there's something for every taste bud.
Experience Luxury at the Palm Jumeirah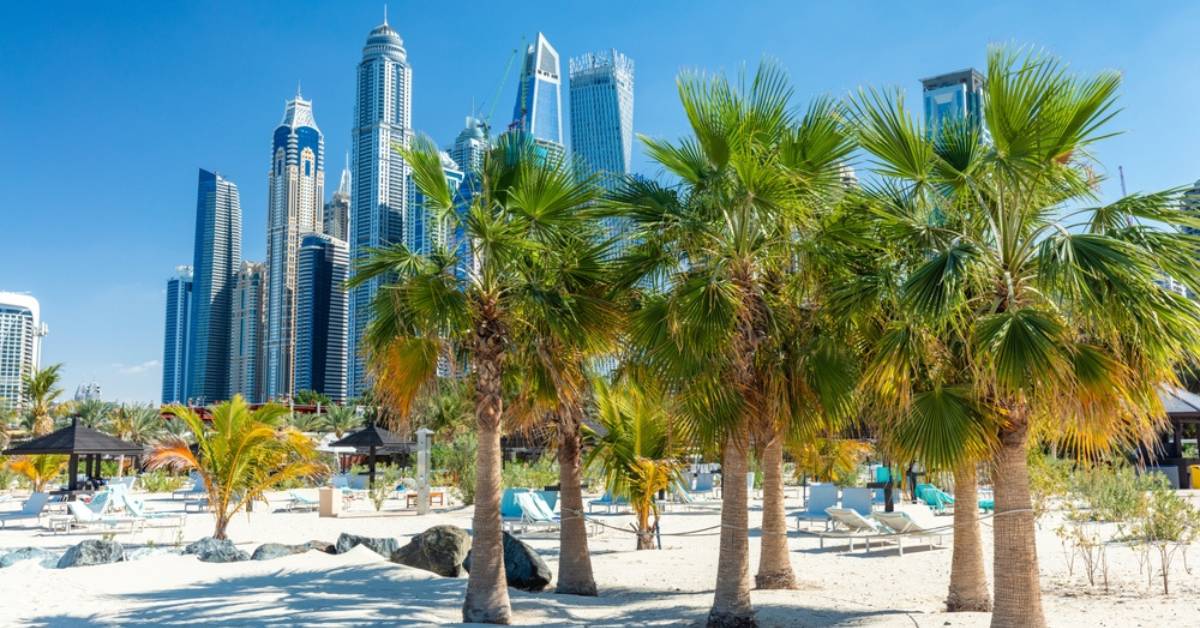 If you want a more luxurious beach experience, head to the Palm Jumeirah. This artificial island in the shape of a palm tree offers some of the city's most exclusive beaches and resorts. Whether you're looking for a day of pampering at a spa, a swim in a private pool, or a stroll along the beach, Palm Jumeirah has something to offer. This exclusive island is a true oasis of relaxation and indulgence.
For the ultimate luxury experience, book a stay at one of the many five-star resorts on the island. With their private beaches, world-class spas, and Michelin-starred restaurants, these resorts offer the ultimate indulgence and relaxation.
But Dubai is more than just beaches and luxury resorts. If you're looking for adventure, head to the desert for a day of dune bashing or camel riding. Or explore the city's rich culture and history at the Dubai Museum or the Sheikh Mohammed Centre for Cultural Understanding.
With its endless array of fun and exciting experiences, Dubai is the perfect destination for travelers looking for a combination of adventure, culture, and luxury. From dune bashing in the desert to relaxing on a pristine beach, there's something for everyone in this captivating city.