It's all about glitz, glamour, great skyscrapers like the Burj Khalifa, and luxury when you're in Dubai, one of the emirates in the United Arab Emirates (UAE) in the region of the Middle East. Then there are the wonderful five-star hotels ideal for a luxurious holiday. You know that feeling you get when you enter a hotel lobby to check in and stop dead in your tracks, craning your neck and glancing up and around? They are those hotels.
The emirate has made a name for itself as the epicenter of luxury, and Dubai hotels draw visitors from all over the world who want a taste of the good life.
The Burj Al Arab is the priciest luxury hotel on this list, well deserving of its position as one of the best 5 star hotels in Dubai.
Given that it is built to resemble a massive sail soaring more than a thousand feet in the air, this hotel is incredibly distinctive from the minute you first see it. The hotel was built on a man-made island that is only linked to the mainland by a walkway to do this. 
A magnificent example of contemporary architecture. The hotel is illuminated at night in various hues that reverberate throughout the sail-like shape of the building. It is open to visitors for the purpose of entertainment as well!
The St. Regis Downtown Dubai
In search of a fantastic hotel in Downtown Dubai? If you're staying in the region for a few days, The St. Regis Downtown Dubai is the ideal five-star hotel. Only a short drive separates the elegant St Regis Hotel from the Dubai Mall, situated along the Dubai Water Canal. The collection of St Regis Hotels & Resorts in the UAE has just added this one.
The rooms are large and have floor-to-ceiling windows with views of either the Burj Khalifa or the Dubai Water Canal—both excellent choices—as well as access to the renowned St. Regis butler service as standard.
This is one of those 5 star hotels in Dubai which also boasts the region's first St. Regis Spa, which is impressively dispersed throughout six therapeutic suites and a Hammam. Signature services include a detoxifying 24-carat gold facial, floating pod therapy, and a traditional Moroccan Hammam.
Anantara World Islands Resort in Dubai
The Anantara World Islands Dubai Resort constitutes one of the latest luxury hotels. The hotel is located on the Worlds Island in South America. The lush tropical islands can be explored here in Dubai and are just a 15-minute motorboat ride from the main city.
The idyllic hotel and beach resort features 70 opulent rooms, suites, and traditional thatched roof villas with panoramas of the ocean, sand walkways, and gardens. A short distance from the rooms is a quiet private beach. Enjoy a memorable dining experience at the resort's numerous eating establishments. 
Jumeirah Beach Hotel was built in 1997 and has 26 stories. Its shape is modelled after breaking waves, presumably as a complement to Burj Al Arab. While the design is elegant and attractive, nothing notably "stands out" about it. However, one can appreciate that every single room offers a view of the sea or the Burj Al Arab.
Due to the predominantly Western clientele of this five-star hotel and the fact that it has been featured in numerous films, its modern architecture will give you the impression that you are in one of those western nations.  
Amongst the tallest 5 star hotels in Dubai is the JW Marriot Marquis Hotel in Business Bay, which is a part of the JW Marriot Hotels in Dubai. Strategically placed next to the Dubai Water Canal are the two skyscrapers. There are 1,608 magnificent rooms with unrivaled views at the opulent hotel.
There are 15 award-winning restaurants and bars for customers, including Prime68 and The Vault. There is the serene Saray Spa, which provides a variety of therapies, for unwinding. The JW Marriott Marquis is the ideal venue for both private and business occasions.
Dubai's One & Only The Palm
This boutique hotel, which is situated on The Palm's western side, is perfect for people who seek both peace and quiet in addition to pure beauty and charm. A cab ride to central Dubai will take you roughly 30 minutes. The unobstructed view of Dubai Marina and the Jumeirah Beach Residence shoreline, which is only available to guests of this opulent hotel, makes up for the inconvenience of the location, though. 
The hotel favors a sandstone color scheme and is built in the Moorish and Andalusian architectural styles. Expensive fountains, pavilions, and similar structures can be seen around the property.
One of the priciest 5 star hotels in Dubai, the Palazzo Versace, offers luxurious accommodations. The hotel has 169 Versace-designed apartments and 215 opulent rooms and suites! Nine dining establishments, including the Italian Vanitas and the Persian Enigma, can be found in the Palazzo Versace.
During their visits, guests can relax at the hotel's acclaimed Versace Spa. It offers a gym open around the clock and a spa for unwinding treatments to restore your body and mind.
Mandarin Oriental Jumeirah
Mandarin Oriental Jumeirah, Dubai, is a hotel with five outdoor swimming pools, a fitness centre, and a shared lounge. It is situated in Dubai and has easy access to the beach. The house is conveniently located in the Jumeirah neighbourhood, 250 meters from Mercato Mall, 2.6 kilometres from The Village Mall, and 3.1 kilometres from City Walk Mall. 
There are many tantalising eating alternatives, including Tasca, a Michelin-starred Portuguese restaurant, a Japanese steakhouse in the Warayaki style, and many others. 
The hotel has a front desk open round-the-clock. A coffee maker may be found in each hotel room. Every room has a private bathroom with complimentary toiletries and a hair dryer. There is a seating space in each unit.
The ME Dubai by Meliá in Dubai, which is 1.7 km from The Dubai Fountain, was created by Zaha Hadid and featured a dining establishment, private parking for guests, an outdoor swimming pool, and a fitness centre. The 5-star hotel's rooms all have city views, and guests can access a bar and a patio. 
Visitors will find a kettle and a wardrobe in every apartment. Breakfast is available à la carte for visitors at ME Dubai by Melia. The neighbourhood is well-known for cycling, and the lodging offers automobile rental.
Le Royal Meridien Beach Resort & Spa Dubai
With 14 international restaurants and bars, this 5 star hotel in Dubai overlooks the Arabian Gulf and is close to JBR. Its five hammam pools and saunas are all decorated in a Roman motif. Visitors can experience contemporary Mexican fare at the acclaimed Maya restaurant. There is free WiFi. 
The Le Royal Meridien Beach Resort & Spa in Dubai provides rooms with 42" LCD TVs that are big. Each room offers air conditioning, a minibar, and a balcony. There is always room service available. 
At Le Royal Meridien Beach Resort & Spa Dubai, visitors can swim in the infinity pool or engage in water sports to unwind. Reflexology, facials, and aromatherapy are just a few of the services available at the spa. The elite Emirates Golf Club is around 3 km away from Le Royal Meridien Beach Resort.
This luxurious 5 star hotel in Dubai is conveniently situated in Oud Metha, which is neither the most picturesque nor the most interesting area of Dubai but is extremely well-linked and ideal for visitors who like a little peace and quiet. 
The Sheikh Zayed Road malls are close by, and the Dubai Financial District is also easily accessible on foot from this location. An attraction near the hotel is Creekside Park, which is also conveniently connected to the airport, which is only 15 minutes away. The hotel was designed with an Egyptian theme and is shaped like a pyramid.
Ritz Carlton is one of your best selections if you're searching for beachside 5 star hotels in Dubai. There are 294 luxurious suites and rooms at Ritz-Carlton, including 193 guest rooms, 60 Club Level rooms, and 41 suites with balconies or terraces facing the Arabian Gulf.
Whether you want to enjoy a gourmet dining feast at a number of restaurants, relax with a treatment at the Ritz-Carlton Spa, or soak up the sun on the white sand beaches. The Ritz-Carlton has every single thing you require for an unforgettable vacation.
The Park Hyatt Dubai, located on Dubai Creek, has a 100-meter infinity lagoon that flows onto a lovely private sandy beach. Additionally, it has a 25-meter pool surrounded by tropical palms. The 5 star hotel in Dubai has several top-notch restaurants, including Noepe, which serves seafood and has a stunning panoramic view, and The Thai Kitchen, which provides real Thai food made by local cooks in three open kitchens. Parking and valet services are available to guests without charge. 
The luxuriously appointed rooms at Park Hyatt Dubai have floor-to-ceiling windows that lead to furnished balconies. Each room offers a marble shower, cable TV, and a well-stocked minibar. A range of brasserie-style dishes are served in the contemporary, cosmopolitan Brasserie du Park.
The 5-star Jumeirah Al Qasr, which has a 2-kilometre private beach, has a seafood restaurant suspended above the Arabian Gulf, suites with furnished private balconies, and huge manicured grounds with canal-style waterways. 
The expansive rooms at Jumeirah Al Qasr have views of the Arabian Gulf or the hotel grounds. All rooms have a private dressing space, a walk-in rain shower, and antique furniture. 
Free fresh fruit and cool towels are provided to guests sunbathing on Jumeirah Al Qasr's own sandy beach. There are therapy rooms in the water at Talise Spa. A sizable pool complex with designated kids' areas and a marble lobby lounge with coconut palms are further on-site attractions.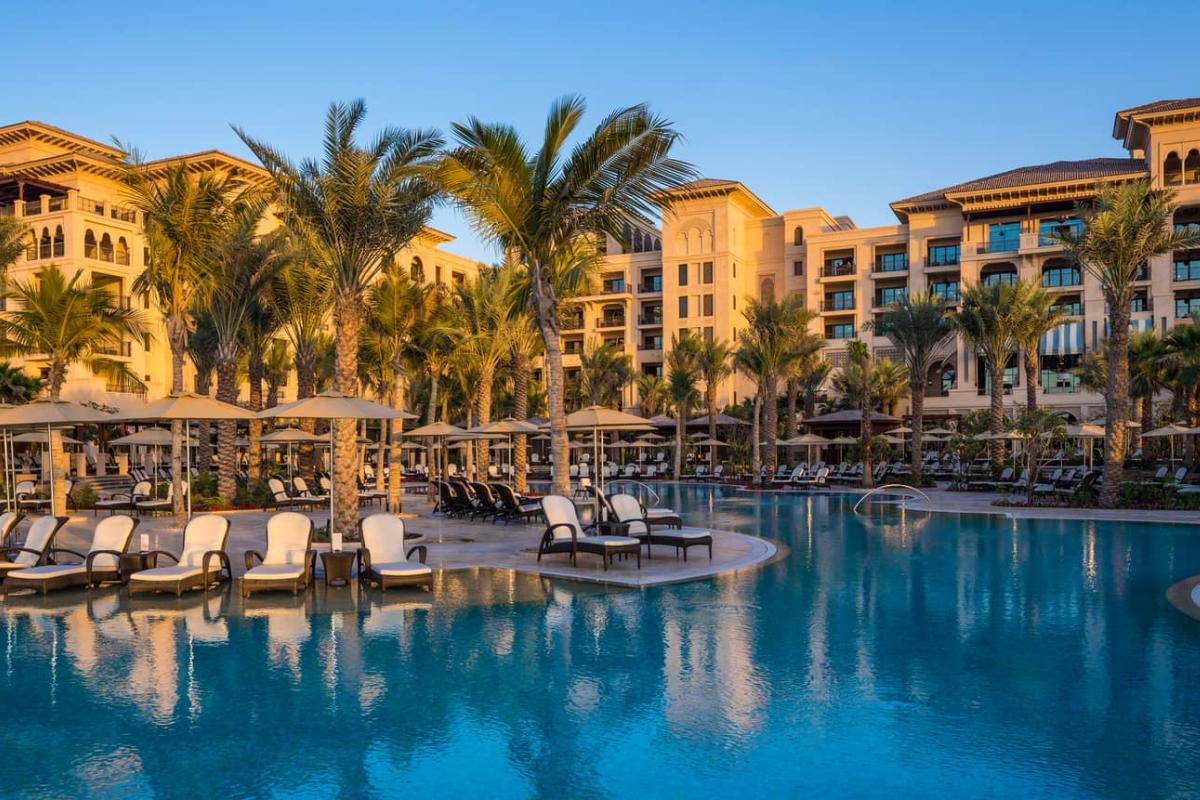 There aren't many places that can provide a true beach and city getaway, but this opulent 5 star hotel in Dubai, on Jumeirah's pristine white coastlines manages to feel both gently integrated into and detached from Dubai. 
The hotel mostly leans toward the peaceful side of Middle Eastern extravagance, with marble, Murano chandeliers, and gold-leaf ceilings that are punctuated with soothing, earthy tones drawn from the Arabian Gulf and desert. At the Four Seasons Resort Dubai, each room and suite is furnished in a contemporary design with Arabic beauty. 
A dining space and sitting area with a flat-screen TV are included in each suite. Xbox and PlayStation are offered upon request. A big soaking tub, a mirror with an integrated TV, and a separate rain shower are all included in the sparkling bathroom, which also has a bespoke Murano glass pendant.
Officially, the Burj Al Arab is the only seven-star hotel in Dubai.
In the United Arab Emirates (UAE), the emirate of Dubai had 151 hotels that were five-star as of 2022.
A six-star hotel is unofficially unheard of. Even 7-star hotels are now occasionally mentioned. The usual quality measure is, of course, from 1 to 5 stars. However, there currently needs to be an institutional certifying agency that recognizes 6 or 7-star hotels.
Officially, the Burj Al Arab is the only seven-star hotel in Dubai.