In Dubai, the breathtaking blue waters they lead into are the only thing better than the countless kilometers of coastline. The city quickly became a popular water sports destination due to its extensive coastline, calm Arabian Sea, and first-rate beach amenities.
The action-packed Dubai activities you need to schedule this summer include shark excursions, gentle sunrise fishing, surfing at wave centers, and charging out of the water with a jet pack strapped to your back.
Check out this detailed list of water sports in Dubai.
Whoops, you and your group are sliding off an enormous yellow inflatable as you speed over the water, not on a banana peel. The traditional seaside pastime involves groups of four or more people straddling a blow-up while being dragged over the surf by a speedboat. It is not for the faint of heart or anyone lacking significant upper body strength. It is also appropriate for practically any age range. Do not enjoy being wet? Then, you'd better hang on tightly.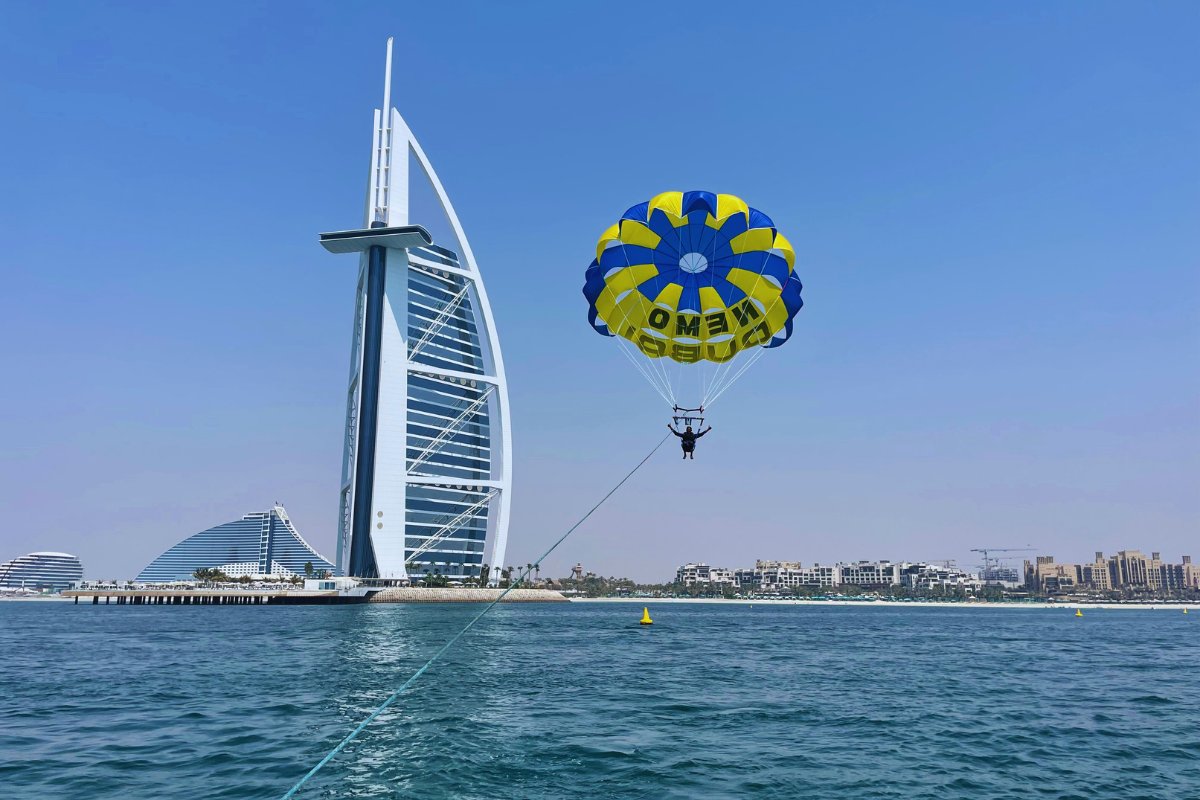 Not a big fan of moving too quickly? Then Dubai's parasailing might be the ideal water sport for you. Parasailing and paragliding are indispensable activities that you must have while in Dubai, and it is amongst the most common water sports in Dubai. A parasail is a unique parachute that is controlled by a boat; it rises and floats in the air as you get panoramic views of the whole metropolis of Dubai. As the parachute lifts off the water's surface, you can feel an adrenaline surge, but once you're in the air, you'll feel like a majestic bird flying!
Spend a morning of sun, sea, and hunting by boarding a yacht in Dubai Marina and sailing past the Palm Jumeirah. The two-man crew that Xclusive Yachts offers will take care of the sails, setting up rods, and, if necessary, baiting. Simply cast your line, watch for a nibble, and reel it in. You can prepare or take home any fish you catch while at sea. It's time to update your Fishing knowledge.
A speed boat is a great way to get the whole family involved in adventurous water sports in Dubai. One of the most popular water sports in Dubai, Jumeirah Beach, is the speedboat, which gives you a tour of the Dubai coastline. Up to 4 family members can participate in the speedboat safely, providing a memorable shared experience you will always treasure. The tour will take you by the city's most famous attractions and provide fantastic photo opportunities.
High levels of adrenaline, rapid movement, and falls. One of the most cutting-edge waterborne toys ever created by humans is flyboarding. Put your feet on a board, strap them in, and fly through the air as powerful jets of water shoot out of the nozzles, lifting you up to 15 meters in the air. You can learn to softly float above the water with some effort, and if you keep trying, you might be backflipping your way to a fun-filled weekend in true James Bond fashion.
Is it a shark or a machine for adventures? The Seabreacher can be summarised as a two-seater aircraft-like machine with a distinctive body that resembles a metallic shark. With an instructor by your side, you may ride in an adventure pod at a thrilling 55 mph on the water's surface before diving to a depth of five feet. Not only that, but it will also instantly soar upwards of 18 feet, making it one of the most distinctive water sports in Dubai. That is a water sport that only the brave should attempt!
In Dubai Marina, kite surfing is one of the most popular water activities, and you can frequently see surfers riding waterboards while being guided over the waves by large parachutes. With the aid of the waveboard, you can harness the wind's immense power. It combines the best elements of surfing, wakeboarding, and paragliding. It will give your core a serious workout while adding a ton of enjoyment to your beach day. One activity you can master in a short amount of lessons is kitesurfing. The only tandem kitesurfing available at Kite Zone is perfect for children.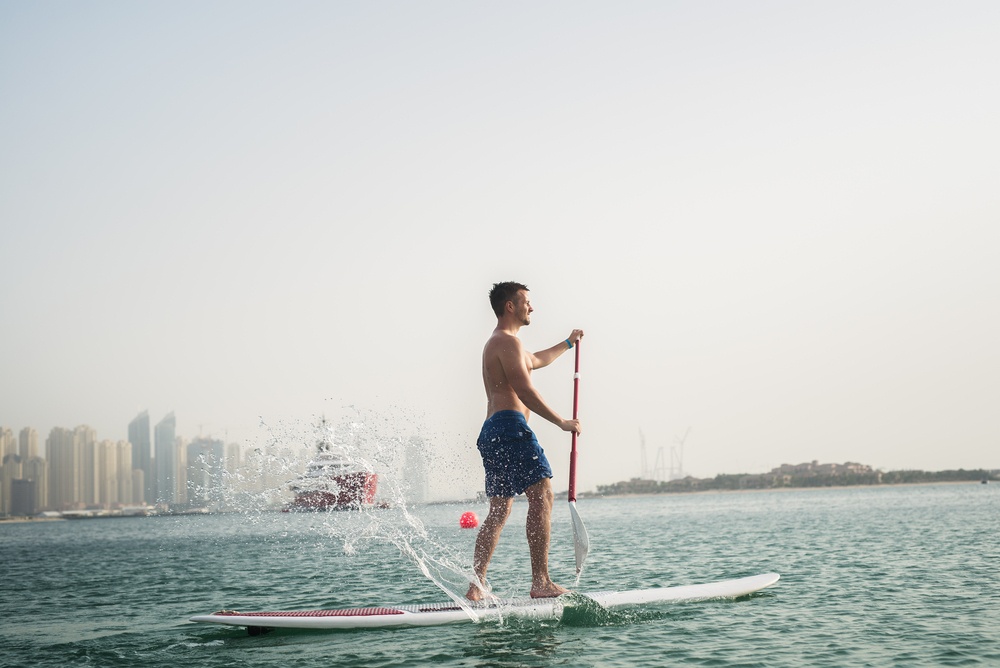 Take a fresh look at the oceans. All you must do is stand up, book a big, flat board, and let your forearms pull you. Keeping your balance while paddling is the most difficult component; thus, people with lower centres of gravity will spend less time in the water. All family members can participate as long as they can swim well. It's a terrific workout. The waters between the fronds of the Palm Jumeirah are the calmest places to enjoy it.
Join the Al Boom team of experienced scuba divers and participate in training at one of the three dive establishments. In Jumeirah, Fujairah, and even the underwater zoo and aquarium at The Dubai Mall, each offers PADI courses and everyday diving. This is Dubai's premier school for learning, from getting acclimated to the equipment and being familiar with hand gestures in a swimming pool to eventually diving into the deep blue.
Aquarium Diving at Atlantis The Palm is the pinnacle of water adventures in Dubai and one of the greatest hotels and attractions in the city!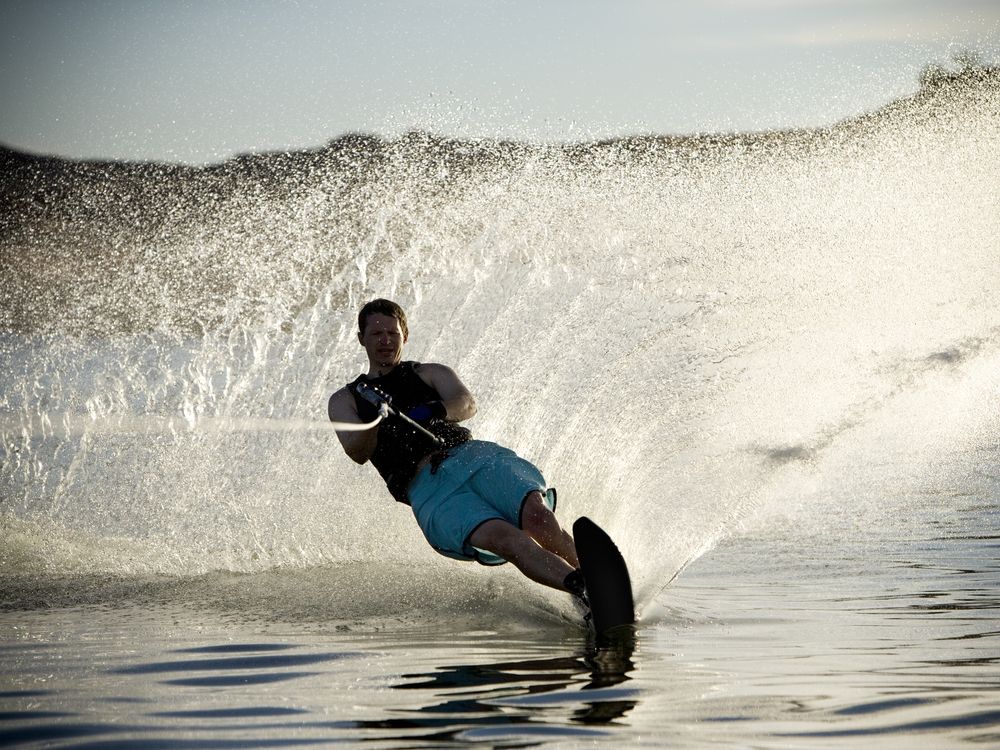 Take a spin on a water ski if you were to only participate in one water sports adventure. One of the best JBR water activities is riding a water ski. The water ski is a strong machine that zips across the water's surface while providing an exhilarating ride. Water skiing is a sport of speed, just like skiing on snow, making it one of the top water sports in Dubai for fans of speed. The speedboat pulling the ski board here determines the pace.
Astonished by the range of water sports in Dubai? Are you all eager to partake in these water activities? Stop waiting, pack your bags, choose your travel dates, and make sure your trip to Dubai includes at least one of these aquatic activities.
The Marina Beach is the best beach for Water Sports in Dubai. Create the best memories by testing your sense of adventure with your family while participating in one of the Dubai water sports activities available at Marina Beach. Enjoy fun and exciting family time at this beach while participating in sports like parasailing, speed boating, jet skiing, and more.
The price for one Jetski ride is 350 AED.
In Dubai, one of the most well-liked and stunning water parks is the Atlantis Aquaventure. It is one of the top locations in Dubai and offers some exhilarating and mind-blowing rides. Atlantis Aquaventure charges AED 320 for a Super Pass per adult and AED 260 for a child.
While many tourists avoid the constrained sandy road that connects the royal palaces in Al Sufouh, they must schedule a visit to the Secret Beach Dubai. The secret beach, also known locally as "Hidden Beach" and "Black Palace Beach," was formerly known as the Al Sufouh beach.