The Dubai Mall, one of the most well-known shopping and dining locations in the world, is situated in the posh downtown of Dubai and is snuggled beneath the Burj Khalifa, the highest structure in the world. It can be a little daunting due to the Dubai Mall's enormous selection of restaurants. 
We've got you covered when it comes to finding the top cafes in the Dubai Mall. There is a wide variety of cuisines and settings to choose from, ranging from kid-friendly cafes to beautiful, romantic dining rooms.
Here is a list of the best restaurants at Dubai Mall that you should visit the next time you're in the region.
The Cheesecake Factory in the Dubai Mall is nothing if not grand. The restaurant has a view of the fountain and is the best in the Dubai Mall. The restaurant's menu features more than 200 items with generous serving sizes. Everything on the menu is delicious, including the juicy cheeseburger and the soups and salads. The Cheesecake Factory has a large menu with more than 250 items, including entrees like spaghetti, pizza, fresh fish, and others. 
Visitors concerned with their weight can take advantage of its unique Simplicios menu, which is filled with wholesome and low-calorie selections. Take a bite of the restaurant's Cajun jambalaya pasta, a popular dish that is bursting with genuine spices.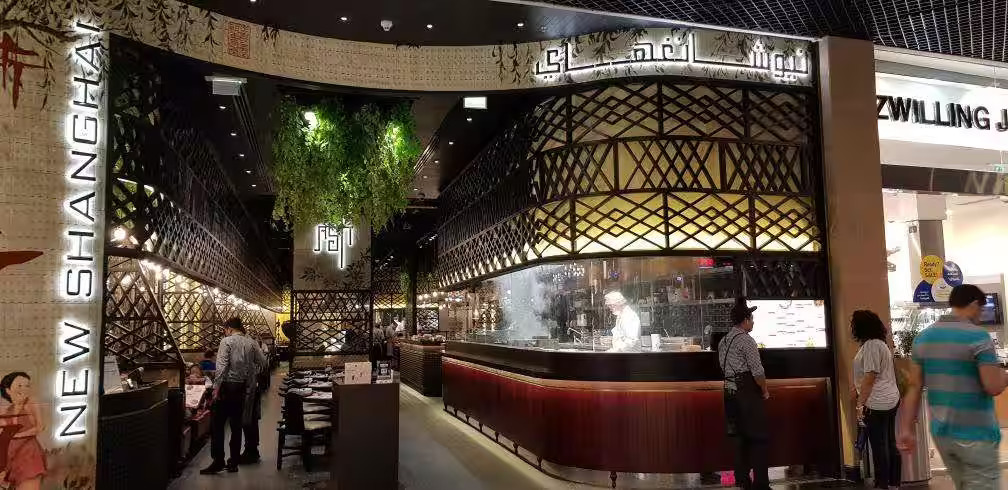 New Shanghai is a must-visit since it gives diners in Dubai Mall a taste of Shanghai. Entering the eatery is like walking into a Shanghai street. It is regarded as Dubai Mall's top Chinese restaurant. Long wooden tables that are offset by wall-mounted artwork line narrow seating aisles. 
The restaurant's wonton soup, noodles, crispy duck, and dumplings come out on top as its most popular menu items. 
Enjoy the warm atmosphere and excellent service provided by the restaurant's staff.
Grab a cup of jasmine tea and unwind. One of the most well-known restaurants in Dubai Mall offers ample amounts of your favorite foods.
One of the eateries in Dubai Mall that will take you on a roller coaster of authentic American sensations is Texas Roadhouse.  Texas Roadhouse is one of the restaurants in Dubai Mall that stands out with its menu as a haven for customers seeking gluten-free options. 
Tastefully constructed to evoke a rural Texas vibe. Hearty quantities are served at the eatery. Enjoy mouthwatering hand-cut steaks, delectable country dinner entrees, and ribs from its extensive menu.
 Off the menu, you can choose from hand-cut steaks, succulent ribs, freshly baked bread, and meat combos. Enjoy the atmosphere created by Texas's laughter, scent, taste, and culture with your friends, family, and close relationships. 
Ask them to prepare your favorite food without gluten, and they'll happily do so when you order it!
Another all-day dining choice is Social House in the Dubai Mall, where customers can chow down on delectable dishes while taking in the scenery. The highest tower in the world, the Burj Khalifa, and the dancing fountains are the subjects of the two views. 
One of the greatest locations to eat in Dubai Mall with a group of friends who are all looking for a different cuisine is this multi-cuisine restaurant.  
The menu features both east and west so that customers may get a variety from all around the world in one location. It features a private dining area and is a terrific place to work.
This location is a meat lover's paradise, as the name would imply. The restaurant's menu combines traditional African tribal flavors with global culinary influences. 
One of the eateries at The Dubai Mall that offers flavors from around the globe is this one. It offers some of the greatest fast meals at Dubai Mall. As you dine, unwind and enjoy the restaurant's perspective of the majestic Burj Khalifa. 
Its prime-cut beef stick and bacon-wrapped chicken are both must-tries. One's taste buds will be blown away by that. These resemble the flavors of African, Arab, Dutch, and French dishes. Feel the fun music that features real vocalists and traditional drums.
GIA welcomes you in rooms with lots of natural light and understated gray accents. It produces a distinctive environment within. GIA is a great choice if you're seeking for the top Italian eateries in Dubai Mall, serving hot, comforting food created with the finest, some Italian-sourced, freshest ingredients. 
Enjoy your favorite mocktail from the extensive menu, which features top choices like Acqua Di Gia, Zenzero Twist, and others. This restaurant combines traditional Italian dishes with a contemporary layout. Soups, salads, spaghetti, and pizza are available all day long. 
You can truly taste Italy with the expertly chosen entrées. Enjoy the calm atmosphere of the restaurant's simple decor as you unwind. 
Check out the other Restaurants in Dubai!

In addition to enjoying a leisurely dinner, Logma is a terrific spot to sample authentic Khaleeji (eastern Arabic) food. You may try meals like shakshuka with feta on top and the Logma Benedict, which consists of poached eggs with khameer loaf, hollandaise, and Khaleeji herbs and spices, if you go for brunch. 
Even the traditional Emirati and Arabian delicacies are available for guests to indulge in amid the colorful decor. Traditional fare like soups, stews, flatbreads, and parathas are available on the menu. Additionally essential are rice dishes stuffed with mouthwatering lamb and creamy walnuts. The saffron milk cake should be consumed to complete the meal. 
Enjoy one of the delicious mocktails on its expertly designed menu, served by its welcoming and outstanding staff.
The place to go for delectable, freshly cooked food is Bebabel, a casual yet fashionable restaurant providing traditional Lebanese cuisine. A wide variety of small plates will be available, featuring hummus, bulgur, vine leaves, falafel, halloumi, fatayer, soujouk, and others. 
Additionally offered are flatbreads with chicken, labneh, and za'atar as toppings. For those who enjoy meat, grill platters with shish kabob, kebab, and boneless chicken are terrific options.
With views of the Dubai Fountain and the Burj Khalifa, the interior design and surroundings of this restaurant at The Dubai Mall are just as impressive as the food itself. After a delicious meal, get some of the delicious 'Karabij', or classic Lebanese cookies.
Check out Restaurants in Dubai Marina!

It's easy to understand why Asma is recognized as one of Dubai's top Middle Eastern eateries. Set up in the laid-back atmosphere and cozy surroundings for a feast of delights. It's easy to understand why Asma is recognized as one of Dubai's top Middle Eastern eateries. 
Before heading on to the main event—outstanding kebabs, salads, breads, and dips—try Asma's arayes (spiced minced lamb in pita), falafel, and other delectable starters. You can order desserts like Saffron Kunafa, Muhallabia, along with Spicy Chocolate mousse to satisfy your sweet craving.
There are about 120 restaurants in Dubai Mall.
The mall has two food courts, one on the first floor and the other on the lower ground level.
The Burj Khalifa, the highest building in the world, sits just next to the Dubai Mall, the largest destination in the world for leisure, entertainment, and shopping. This is why Dubai Mall is mostly preferred by both tourists and locals
If you find the restaurants to be expensive, you can head to the food courts. You may enjoy a variety of fast food brands in the food court (top level), including Burger King, KFC, McDonald's, Pizza Hut, London Fish & Chips, Magic Wok, and others. A typical supper with fries and a soft drink would cost each person about AED 25 (USD 7).