In addition, the warm, aqua-blue Persian Gulf is home to miles and miles of snow-white, fine-sand beaches in the Middle Eastern emirate of Dubai. 
There are a lot of public beaches in Dubai that attract millions of people each year as part of Dubai vacation packages, even though many beaches there are private and connected to upscale residential areas or resort hotels.
Here are the top public beaches in Dubai where you can enjoy the sunshine, indulge your sense of adventure with water sports and skating, and eat delicious food all at once.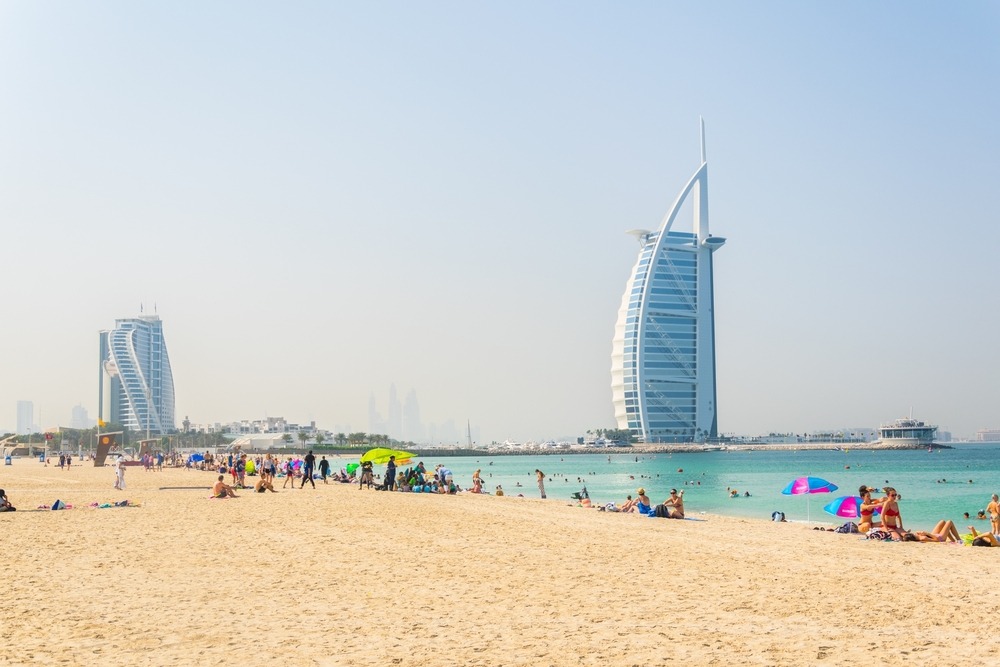 Jumeirah Open Beach is a standard family-friendly attraction that offers volleyball courts and a jogging path for those who wish to stay in shape. You may borrow books from the beach's library and return them to any kiosk along the expansive spread of sand, so you'll never run out of things to read while relaxing in the sun. There are beanbags and tables available so you may read comfortably. 
With private villas close by and particularly clean, Jumeirah Open Beach is situated next to the Mercato shopping centre. The three-kilometre-long beach is separated into two bathing sections and one for water sports. 
Jumeirah Beach, which has year-round lifeguard protection and sports amenities, is the perfect picnic location for families with its warm sunrays, golden sand, and shimmering blue water. 
The beach has received the 'Blue Flag Beach' accreditation due to its clear water and well-kept sands. In addition, one may take in a breathtaking view of the seven-star Burj-Al-Arab, one of the most popular attractions in Dubai.
Yes, the beach gets its name from all those kitesurfing parachutes! For fans of water sports and adventure, The Kite Beach is among Dubai's best beaches. Water sports including kitesurfing, wakeboarding, and paddleboarding are widely available at the beach.
Kite Beach is a favourite among fitness enthusiasts who use the running track between many of the fantastic dining establishments and the beach itself. It is less crowded than some of the other public beaches in Dubai.
Visitors also attend local markets, sporting activities, live entertainment events, and art fairs. Before heading to the renowned food trucks and stalls to enjoy the ideal day out, get dropped off near the volleyball courts.
It has a fun beach ambiance and the best food trucks for finger foods. The nicest part of the 14 km running path along the beach is the breathtaking view of the Burj Al Arab in the distance. Compared to other public beaches, this one has slightly coarser sand that is also heavily shell-filled.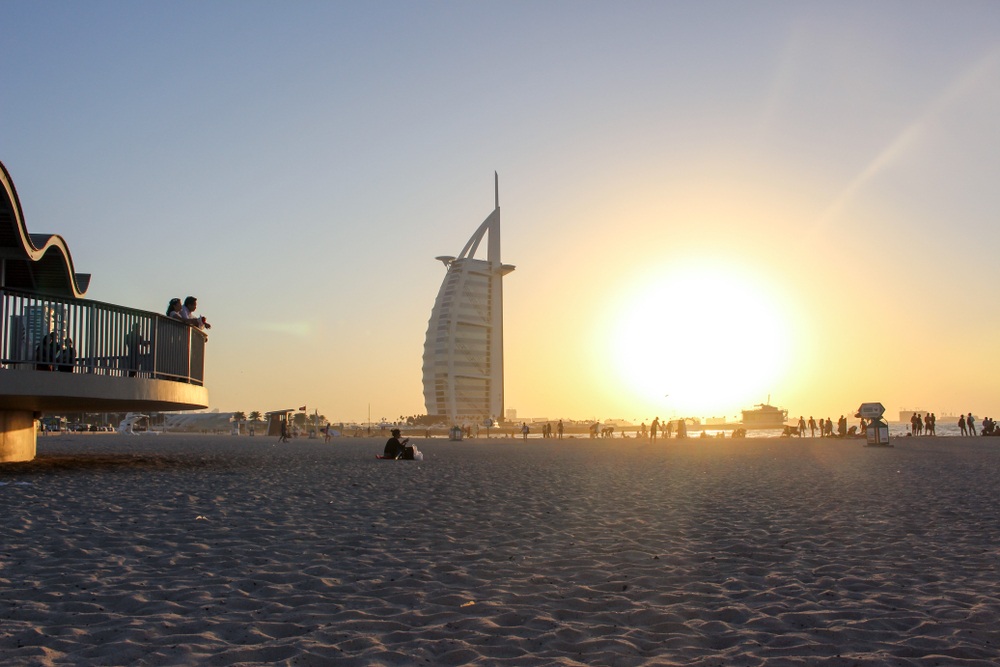 Umm Suqeim Beach in Dubai is the place to go if you want those Instagram-worthy pictures of the Burj Al Arab. The most popular choice among Dubai's public beaches is Sunset Beach. Visitors may see the Burj Khalifa and it is situated close to tourist sites. One of the best beaches in Dubai, it even includes a portion that is floodlit for swimming at night. 
Popular activities on the beach include early-morning jogging and leisurely strolls while seeing the changing hues of the sky as the sun sets into the Arabian Gulf. Despite the lack of beachside dining options or restaurants, the beach's natural beauty makes up for the fact that it is fairly quiet.
One of Dubai's undiscovered jewels that only locals are aware of is the Mercato Beach! This small beach is not particularly popular with tourists, so it is quiet and a great location to unwind.
The beach has a long jogging path that's perfect for a morning stroll, a library with seating areas and bean bags, and a shopping center where you can go ahead and stock up on snacks. The beach descends into the water and is broad with a gradual curve. Although there are lifeguards on duty, swimmers should take extra precautions because Mercato can witness some waves and undertows. The beach is accessible every single day.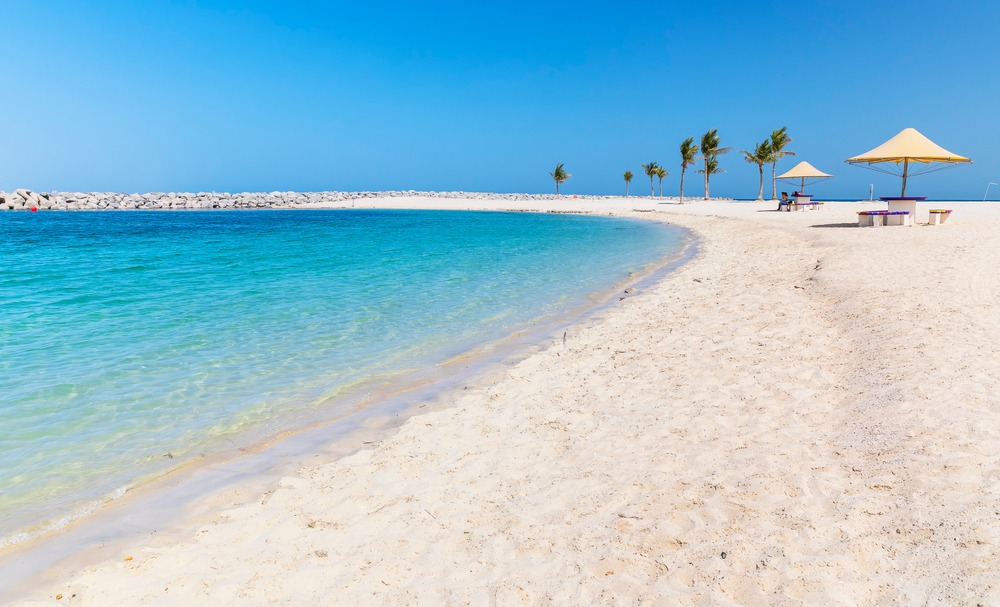 The Al Mamzar Beach Park's immaculate white sand will make you forget that you are not on a tropical island but at one of Dubai's finest public beaches.  It is one of Dubai's most popular open-air beaches. Its location on the border of Dubai and Sharjah and its abundance of services will appeal to beachgoers. 
Al Mamzar Beach Park, which is close to the Deira neighbourhood, has 106 hectares of space and includes five spread-out beaches with lifeguards, watchtowers, changing areas, and shade for sunbathers, as well as a large number of grassed picnic areas, a concert venue, swimming pools, children's play areas, barbecue & food spots, and lagoons. The only people permitted here on Mondays and Wednesdays are women, girls, and boys under four years old.
Locals can be seen having picnics, kids running around in the children's park, people eating by the lagoon, and restaurants being packed. It goes further than this. For both visitors and residents, there are well-maintained gym facilities, jogging trails, and bicycle paths.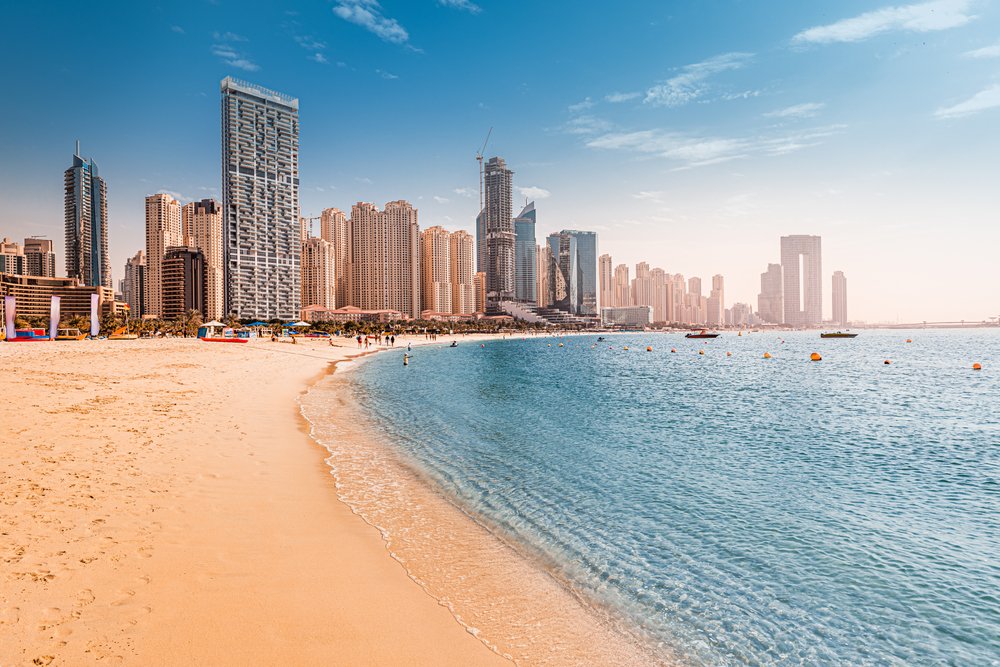 To reward your family with fun and shopping, visit this beach. JBR Beach has a ton of fantastic restaurants and beach activities. Here, you'll discover a market and eateries in the boutique style. 
Take a camel ride here to experience what it's like to visit a public beach in Dubai. JBR locals enjoy coming here to partake in fitness pursuits on the jogging trails. Locals taking picnics and kids having a nice time may also be witnessed here.
La Mer, Dubai's most Instagrammable beach, is between Jumeriah Bay and Pearl Jumeriah. Because La Mer proudly hosts more than 15 art installations on its property and has hosted Dubai Canvas, this public beach is well known among art enthusiasts. On the beachfront, there are over 80 stores, cafes, and eateries. Inflatable water rides are available at Hawa Hawa. This public beach is popular with both kids and adults.
Stately, tall palm trees border the immaculate length of sand here, and it is sprinkled with colourful beach huts, lounge chairs, and even a few in-water hammocks. In addition, La Mer features a few beach bars situated on the ends and offer al fresco meals and drinks with breathtaking views from outside terraces.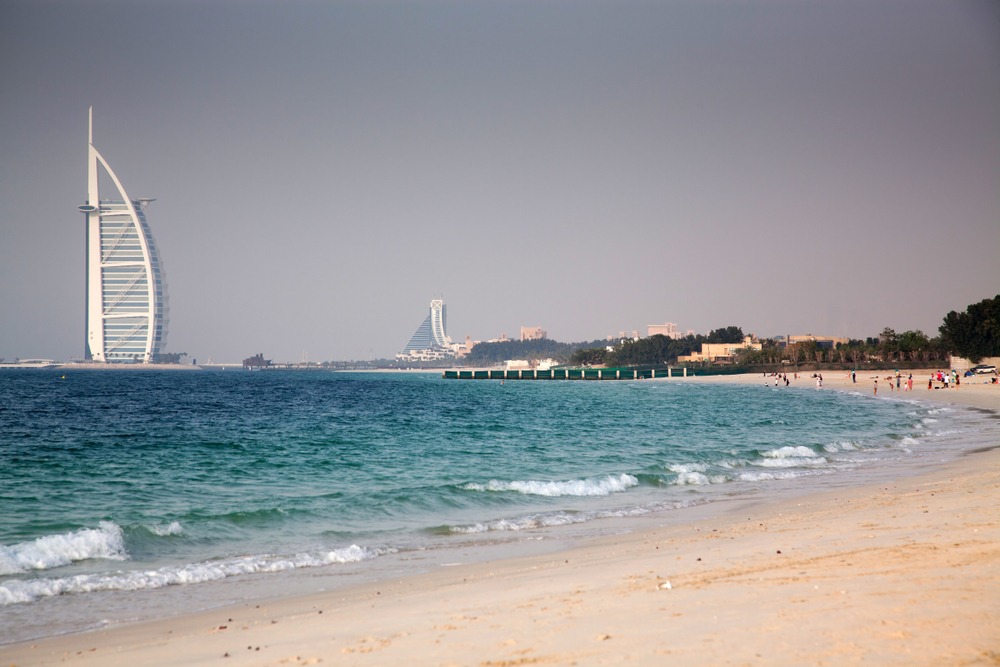 Between the Burj Al Arab Hotel and the Palm Jumeirah in Dubai, there is a large, soft golden sand beach known as Black Palace Beach, also known as Al Sufouh Beach. Because it's a little challenging to find, this less well-known beach is also known as Secret Beach. 
This sparse beach offers peaceful waves and open space with pure coastlines to transport you on a tranquil voyage. Families especially enjoy this location since it is safe for children to splash around because the water is not near the roads too close. The vista at sunset, when Burj Al-Arab lights up and Madinat Jumeirah comes to life, is spectacular.
Al Sufouh is more of a minimalist beach that clings to pure sand than a beach with restaurants, entertainment, and shopping options within the dense cover of 5-star hotels. It is a calm and ideal location for anyone wishing to unwind by the beach as part of a Dubai vacation.
Swimwear can only be worn on beaches, so keep that in mind as you prepare for your beach holiday. When you visit the beach and intend to swim, a wrap is needed. You ought to respect and adhere to the local norms and culture. There are a lot of public beaches in Dubai that attract millions of people each year as part of Dubai vacation packages, even though many beaches there are private and connected to upscale residential areas or resort hotels.
Yes, there are several public beaches in Dubai for you to enjoy.
Nine public beaches, including swimming sections, sand areas, and running paths can be found in Dubai.
Dubai Public Beaches include: Jumeirah Open Beach, AL Mamzar Beach, La Mer Dubai, Kite Beach, Sunset Beach.
JBR Beach is open to all. However, the activities cost money.
Jumeirah Public Beach is accessible from Jumeirah Road and is open daily from seven in the morning until eleven or eleven thirty. While entry to the park costs a few dirhams, entrance to the beach is free.