Things to Do in Dubai Mall: Top Attractions and Experiences
Dubai Mall, one of the world's largest shopping centers, offers a plethora of unique and exciting experiences that go well beyond just shopping. This colossal mall, covering an area of over 5.9 million square feet and housing more than 1,200 retail outlets, has something for everyone, from fashion boutiques to family-friendly attractions and fine dining experiences. Attached to the awe-inspiring Burj Khalifa, the tallest building in the world, Dubai Mall attracts millions of visitors each year, making it a must-visit destination for anyone traveling to the city.
In addition to an extensive range of shops and brands, visitors will also find a diverse array of attractions to explore and enjoy. One can marvel at the fascinating underwater world at the Dubai Aquarium & Underwater Zoo, or spend the day at Kidzania for a memorable time with the little ones. For those seeking adventure, the Virtual Reality Park and the Olympic-sized ice skating rink provide hours of fun and entertainment. With so much to see and do, visitors of all ages and preferences are sure to have an unforgettable experience at the renowned Dubai Mall.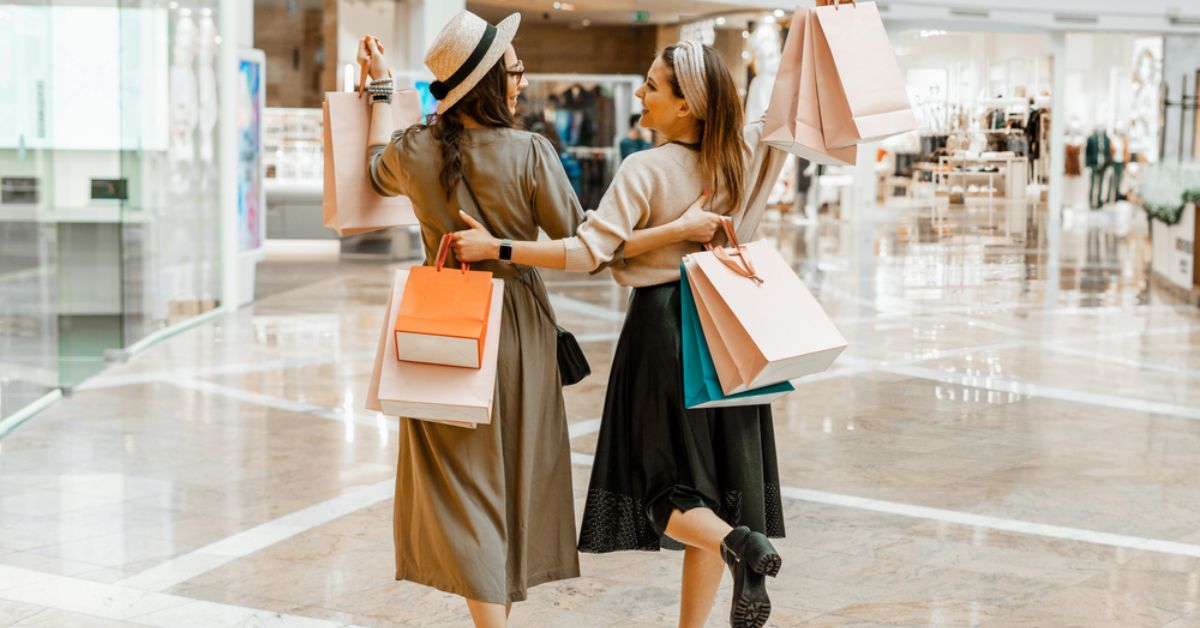 Dubai Mall offers a diverse and exciting shopping experience for both tourists and residents. With over 1,200 outlets, visitors can explore various attractions, high-end retail shops, and unique souvenirs.
The Fashion Avenue is the heart of Dubai Mall, catering to all fashion enthusiasts. It is home to a range of international and regional designers. Here, shoppers can find the latest trends in clothing, footwear, and accessories. The Fashion Avenue also hosts several events and fashion shows throughout the year, guaranteeing a lively atmosphere for fashion lovers.
Dubai Mall is a haven for luxury brand enthusiasts. It features an extensive selection of top international brands, including exclusive options not found elsewhere in the city. Some of the world-renowned brand names available in the mall are:
Clothing: Chanel, Dior, Gucci, Louis Vuitton, and Prada
Watches & Jewelry: Cartier, Chopard, Tiffany & Co., and Bvlgari
Perfumes: Tom Ford, Jo Malone, and Creed
Electronics: Apple, Samsung, and Bose
Shopping enthusiasts can enjoy an ultimate luxury experience while exploring these designer stores.
The Dubai Mall Souk offers a traditional-meets-modern ambiance with its unique architecture and wide range of products. Visitors can browse through various shops selling local handicrafts, Arabian souvenirs, and authentic Emirati items such as:
Traditional clothing, including abayas and kaftans
Handcrafted jewelry and accessories
Decorative pieces like carpets, lanterns, and pottery
Perfumes and fragrances with a Middle Eastern touch
The Souk provides a delightful shopping experience for those looking to take a piece of Dubai's rich culture and heritage back home.
Entertainment Attractions
Dubai Mall is home to several exciting entertainment attractions that cater to diverse interests. In this section, we explore three notable options: the Dubai Aquarium and Underwater Zoo, KidZania, and VR Park.
Dubai Aquarium and Underwater Zoo
The Dubai Aquarium and Underwater Zoo is a must-visit attraction in the Dubai Mall, offering a captivating experience for visitors of all ages. The massive aquarium tank houses more than 33,000 aquatic animals, including sharks and rays, and allows guests to walk through a 270-degree walk-through tunnel for an immersive underwater experience.
The Underwater Zoo, located on the level above the aquarium, showcases unique marine life from around the world, such as penguins, crocodiles, and sea horses. There are interactive zones, educational exhibits, and captivating presentations that entertain, inform, and inspire visitors about the wonders of the underwater world.
KidZania is a unique edutainment center that allows children to immerse themselves in a variety of role-playing activities designed to ignite their imaginations and creativity. This interactive cityscape provides a safe and educational environment where kids can try their hand at different occupations, such as pilots, doctors, firefighters, and more.
Each activity at KidZania encourages collaborative teamwork, critical thinking, and essential life skills. With over 80 role-playing scenarios, children have plenty of options to choose from and explore different careers, fostering a love for learning and self-confidence.
For those who seek an unforgettable virtual reality experience, VR Park is the ideal destination. Featuring an array of adrenaline-pumping VR games and experiences, this futuristic attraction makes use of state-of-the-art technology, high-resolution graphics, and motion simulators, transforming how guests perceive the world.
Some popular experiences at VR Park include:
APE-X: Take on the role of a giant cyber-ape and scale a skyscraper in this thrilling adventure.
Dune Bash: Embark on a virtual off-road ride through the desert sand dunes.
Paranormal Activity: Face your fears in this spine-chilling horror experience.
Guests can expect to be fully immersed in these alternate realities, providing an escape from the every day and a whole new level of entertainment.
Dubai Mall offers a multitude of dining experiences, catering to various tastes and preferences. In this section, we will explore the different types of dining options available in Dubai Mall, specifically focusing on Food Courts, Fine Dining, and Cafés.
The food court at Dubai Mall is perfect for families and visitors looking for a quick and convenient meal. Open from 10:00 AM to 10:00 PM daily, the food court features a variety of popular fast food chains and cuisines from around the world. Whether you're craving burgers, pizza, sushi, or Shawarma, the extensive selection at the food court ensures that there's something for everyone. Some popular restaurants include Shake Shack, KFC, and YO! Sushi.
For those seeking a more upscale dining experience, Dubai Mall is home to several top-notch restaurants with stunning views and impeccable cuisine. These fine dining establishments can be the perfect choice for a romantic dinner or a celebration with family and friends. Among the many options available, here are a few highly-rated fine-dining restaurants:
GIA

 – a stylish Italian restaurant with a sophisticated ambiance and mouthwatering menu.
Hurricane's Grill – an acclaimed Australian steakhouse with a wide range of prime cuts and grilled specialties.
If you're looking for a cozy spot to catch up with friends, the Dubai Mall boasts an array of charming cafés to choose from. These cafés not only serve a variety of coffee and tea, but also offer a selection of sandwiches, pastries, and light bites. A few popular cafés in Dubai Mall include:
Starbucks

 – the iconic coffee chain with a location in Dubai Mall, perfect for grabbing a quick coffee and snack while shopping.
Costa Coffee

 – a British coffeehouse chain offering a wide range of hot and cold beverages, in addition to light meals and snacks.
In summary, Dubai Mall presents numerous dining choices to cater to every palate, from food courts and cafés to fine dining establishments. Visitors can treat themselves to a diverse and flavorful selection of eateries while they explore the mall's attractions.
The most convenient and budget-friendly way to reach Dubai Mall is by metro. Take the Red Line and alight at the Burj Khalifa/Dubai Mall metro station. From there, you can use the air-conditioned metro link bridge, which connects the metro station to the mall. This walkway is about 820 meters long and takes around 10-15 minutes to walk. Alternatively, there are shuttle buses available from the metro station to the mall entrance.
If you prefer a more comfortable and direct mode of transportation, you can opt for a taxi. Taxis are available throughout the city, and you can easily flag one down or book one using local taxi apps like Dubai Taxi, Careem, or Uber. The fare will vary depending on your starting location, but it is generally an affordable option for groups or families. Be sure to provide the driver with the specific entrance you'd like to be dropped off at, as Dubai Mall has multiple entrances.
Frequently asked questions
What are the must-visit attractions in the Dubai Mall?
The Dubai Mall boasts several exciting attractions for visitors. One of the highlights is the Dubai Aquarium, which hosts over 30,000 marine animals in its 10-million-liter tank. Another must-see is the Olympic-sized ice rink. For those with a sweet tooth, Candylicious, the world's largest candy and sweet shop, should not be missed.
What ticketed experiences are available in the Dubai Mall?
There are numerous ticketed experiences to enjoy in Dubai Mall. Some popular options include the captivating Dubai Aquarium, KidZania, VR Park, and Reel Cinemas. These experiences cater to different interests and provide opportunities for both entertainment and education.
Are there any unique shops in the Dubai Mall?
Indeed, the Dubai Mall is home to a plethora of unique shops, including Candylicious, the largest candy and sweet shop in the world. Visitors can also find several high-end fashion boutiques, luxury art and home decor items, and a wealth of dining options to satisfy various tastes.
Can you recommend activities for kids in the Dubai Mall?
Dubai Mall has plenty of kid-friendly activities to choose from. KidZania is a popular choice, providing an interactive and educational experience in a child-sized city. The Dubai Aquarium is another excellent option, offering an engaging and educational exploration of marine life. Lastly, the ice rink and VR Park can cater to a wide range of ages, providing both entertainment and physical activity.
How does the Dubai Mall compare to the Mall of Emirates?
While both malls offer extensive shopping, dining, and entertainment options, the Dubai Mall is the larger of the two, featuring an impressive array of attractions such as the Dubai Aquarium, Olympic-sized ice rink, and Candylicious. The Mall of the Emirates also has its share of attractions, including the famous indoor ski resort Ski Dubai, but the Dubai Mall offers a more expansive and diverse experience.
What should I prioritize during a short visit to the Dubai Mall?
If your visit to the Dubai Mall is limited in time, prioritize visiting the standout attractions like the Dubai Aquarium and the Olympic-sized ice rink. Additionally, take some time to explore the unique shops, including Candylicious, and indulge in the diverse dining options available in the mall. Lastly, don't forget to take in the stunning architecture and design elements throughout the mall.